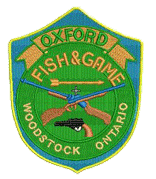 Welcome to the new website for Oxford Fish and Game Protection Association.
On this site you will find separate pages for each of our very active sections, giving you information to do with each and hopefully we will see you at one of our events in the near future.
Our Facility is located on very picturesque property, which has four beautiful seasons for all who enter to visually soak in, and enjoy its offerings. We are a family oriented facility and everyone is welcome.
If there are any unexpected changes in match times or date you will find them here on the home page for your immediate information.
Should you wish to contact
us, with regards to information, please feel free to email us by clicking on the link below.